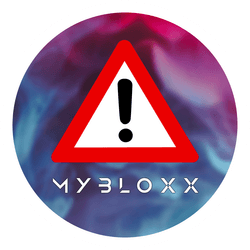 A crowdsourced AUTO-UPDATING "xBlocker" for iOS!
• ADS | REVOKES | TRACKERS | MINERS & MORE •
---
PLEASE GO TO SETTINGS APP
AFTER RESPRING TO CONTINUE
PROFILE INSTALLATION PROCESS!
(Settings - MYbloXX for iOS)
---
"MUST BE SUPERVISED" ERROR?

OPEN SETTINGS - MYBLOXX FOR IOS:
TAP SOFT REBOOT AND TRY AGAIN!
---
Official Telegram Support Group

FAQ | User Guide

Changelog
---
What makes MYbloXX for iOS better than the alternatives?

- AUTO-UPDATING
- BETTER BATTERY LIFE
- FASTER BROWSING
- INTEGRATED POP-UP/REDIRECT BLOCKER
- NO FILESYSTEM MODIFICATIONS
---
Screenshots:
---
Reviews:
★★★★★ "MYBloXX is the most robust ad blocker I've used. It works very well every where on the device. Very responsive developer with quick updates. And it's all free. I definitely recommend this blocker."
-@HSafi

"I've been using MYbloXX since the initial beta release and I can definitely be the one to say that it's the best ad blocker to this day. It's my go-to ad blocker now."
-@yousefabuz17

"Wow! I never knew this existed. This is amazing!"
-u/TheRealPowerful

"Very nice. Just made the jump from BlockYouX, working great!"
-u/CymraegAce

"Use MYBloXX! Best ad blocker by far."
-u/abranthiphop

"MYbloXX is the best I've found!"
-@starmega5

"Just tried it, it's brutal."
-u/ice-slice

"I just switched to MYBloXX and it's better than the rest."
-u/hleh

"The MYbloXX dev is very responsive; he fixed an issue I had with one of my apps blocking something it shouldn't have in under an hour!"
-u/kumashi73

"Have been using MYbloXX since day 1 of beta release... After using all other ad blockers, I can definitely say that MYbloXX is on another level! None of the other ad blockers come close. The dev is very responsive, always available to sort out any issues."
-@AarBee

"MYbloXX is so good that it annoys me every time I have to use somebody elses device that's full of ads."
-@Rishabh_Mittal

"Since my ISP removed the option to change DNS, I wasn't able to use AdGuard DNS anymore. MYXXdev released the first beta which went so smooth and buttery that I liked it a lot and became a loyal user. It met my needs, it's battery efficient, bug free, very responsive, seamless updates, blocks popups and even works in a non-jailbroken state. This really is a must have tweak!"
-@Usman

"I've been a beta tester for MYbloXX and it's been strong from the get-go! The dev really does commit to his tweak and pushes daily updates so we can get the best experience possible. He also takes the time to listen and resolve any issues we face regarding his tweak extremely quickly! Would recommend to anyone that's used Mega UHB and wants better performance!"
-@perqss

"One of best ad blockers ever!"
-@ComeAs_YouAre

"Blocks everything for me!"
-@Barry28

---
Description:


The problem with alternate ad-blocking tweaks is that they rely on hosts file modifications to block ads... Not only is this static, requiring constant manual additions to the file and pushes of package updates (rarely done) but it also takes a toll on your download/upload speed... The more rules in the hosts file, the longer it takes to render pages. This method also requires additional tweaks (LetMeBlock and mDNSrestart) to allow mDNSresponder's use of the hosts file. This is also a strain on system daemons which causes a significant amount of battery drain, especially if mDNSresponder goes haywire, which it's known to do.

That's where MYbloXX for iOS comes in!

Security is a top priority for everybody... MYbloXX for iOS is no different. This uses absolutely no third-party servers to re-route your traffic, unlike ffapple and other third-party DNS/Ad blocking App Store apps. They claim to not do so but how do we REALLY know that? MYbloXX for iOS is different: All traffic is routed DIRECT...

MYbloXX for iOS is a simple configuration profile that uses JavaScript to check against specified rules within a PAC file. If the domain requested is within the PAC's rule list, it will sinkhole. The PAC congifuration uses wildcards to more effeciently block targeted ad-servers and known domain structures like http://ad._____

The use of wildcards means a vast majority of entries within the hosts file can be removed to ensure a fast, efficient ad-blocking method.

MYbloXX uses a powerful Apple stock feature that is usually only available to those with "supervised" devices. It also allows for on-the-fly updates to quickly add new ad-servers and works on all versions of iOS, all carriers and ISP's (IPv4 and IPv6 respectively...

So... Just how effective is MYbloXX for iOS and how does it stack up against the competition?

It was put to the test against 2 other popular ad-blocking tweaks (BlockYouX & Mega UHB) using adblock-tester.com

The numbers speak for themselves! All 3 tests were conducted using the following settings:

Contextual Advertising: ON
- Google AdSense: ON

Analytics Tools: ON
- Google Analytics: ON
- Hotjar: ON

Banner Advertising: ON
- Flash banners: ON
- Empty Block button SELECTED (if not shown)
- Gif image: OFF (explanation below)
- Static image: OFF (explanation below)

Error monitoring: ON
- Sentry: ON
- Bugsnag: ON

Final scores (in order);
MYbloXX for iOS: 94/100
Mega UHB: 81/100
BlockYouX: 72/100

Gif image and static image tests were turned off because I've decided not to attempt to block these... Why? Although possible, it's highly likely it would have an adverse effect, potentially blocking legitimate GIF's (now that they're hugely popular on social media) and small images. This ad technique is pretty antiquated at this point either way and most do not do this anymore.

MYbloXX for iOS aims to block as many ads as possible out of the box using a technique that has not been used in any other ad-blocking tweaks until now. With new ad servers being created on a daily basis, on rare occasions, it's possible you'll come across an ad in an app/on a website.

If this happens, please use the reporting feature in Settings - MYbloXX for iOS to or reach out via Telegram: MYXXdev Support Group. The more that use this feature, the better!

Ad-servers that are added to MYbloXX for iOS will be updated AUTOMATICALLY on your device providing up to the minute protection from ads, revokes, trackers, miners and all other malicious content/threats.

Features:
• Works for WiFi and data (5G/LTE/4G/3G) connections.
• Does not rely on hosts/other tweaks to work.
• Works in stock AND jailbroken mode.
• Works alongside VPN servers/apps.
• Blocks all language ad-servers.
• Works for all versions of iOS.
• No filesystem modifications.
• Blocks Facebook video ads.
• Blocks pop-ups/Redirects.
• Blocks user stats scripts.
• IPv4/IPv6 compatibility.
• Blocks app revocations.
• Blocks in-game ads.
• Blocks tweak ads.
• No battery drain.
• Auto-updates.

This profile requires your iDevice be managed/supervised. This is a restriction set in place by Apple on a system level due to the nature of the profile.

JAILBROKEN USERS: This package will spoof your devices "isSupervised" status allowing easy installation.
On removal of this package, your device will return to its true unsupervised state.

STOCK USERS: MYbloXX for iOS requires you (legitimately) supervise/manage your device using Apple Configurator 2 (Mac only) prior to installation... THIS REQUIRES RESTORING YOUR DEVICE in order to configure/supervise so please ensure you BACKUP YOUR DEVICE!
HOW TO SUPERVISE WITH APPLE CONFIGURATOR 2

A special thanks to Charlie Todd, Droom0ne, John Coates, LakesideMiners, Usman, yoyo and all beta testers for their contributions!
---
Version:
2.020121
---
Support Development:
PayPal - MYXXdev@MYXXfm.com
---
Bugs:
iOS 14: 99% functional - Pending TabBlocker update.
---
MYbloXX for iOS | MYXXdev

Powered by MYXX FM
#1 for Spanglish Hits!